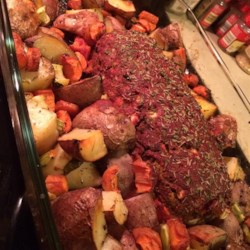 Time:AmountIngredients:Directions:
Preheat oven to 350 degrees F (175 degrees C).
In a large bowl combine vegetarian ground beef, vegetarian ground beef crumbles, onion, eggs, Worcestershire sauce, salt, pepper, sage, garlic powder, mustard, oil, bread cubes and milk. Transfer to a 9 x 13 inch baking dish and form into a loaf. Pour tomato sauce on top.
Place carrots and potatoes around loaf and spray vegetables with cooking spray.
Bake 30 to 45 minutes; turn vegetables. Bake another 30 to 45 minutes. Let stand 15 minutes before slicing.