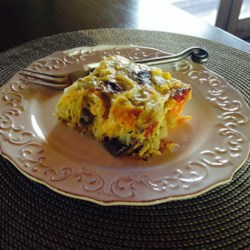 Time:AmountIngredients:
1 tablespoon margarine
1 (8 ounce) package fresh mushrooms, chopped
1 onion, chopped
1 clove garlic, minced
4 eggs, beaten
1/4 cup bread crumbs
1/4 teaspoon salt
1/8 teaspoon hot pepper sauce (such as Tabasco®)
1/8 teaspoon ground black pepper
1/8 teaspoon dried oregano
1/8 teaspoon garlic salt
2 (6.5 ounce) jars marinated artichoke hearts, drained and chopped
3/4 pound shredded Cheddar cheese
Directions:
Preheat oven to 350 degrees F (175 degrees C). Grease an 11x7-inch baking dish.
Melt margarine in a skillet over medium-high heat; saute mushrooms, onion, and garlic in hot butter until the onion is clear, 5 to 7 minutes.
Beat eggs, bread crumbs, salt, hot sauce, pepper, oregano, and garlic salt together in a bowl. Stir mushroom mixture, artichokes, and cheese into the egg mixture; pour into the prepared baking dish.
Bake in preheated oven until the egg is set in the middle, 35 to 40 minutes. Cool slightly in baking dish before cutting into squares to serve.